Marriage Articles
Sizzle and Dazzle Your Spouse For Valentines Day
Ask A Marriage Question
Heaven Ministries
Book Store
Marriage and Health Books
Click here
Sugar Overload Syndrome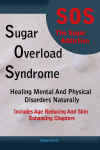 Healing Mental and Physical Disorders Naturally
Buy From Lulu
Journey on the Roads Less Traveled

Because of its thoroughness, this book (Journey on the Roads Less Traveled) would make an excellent preparation for marriage, in conjunction with a specific church program, or in and of itself as a private preparation.
Buy Journey
$17.95
Sugar Overload Syndrome
Healing Mental and Physical Disorders Naturally
Dear Friends. I am happy to let you know that we have published our latest book Sugar Overload Syndrome - Healing Mental and Physical Disorders, Naturally.

This books covers a lot of areas of health such as ADHD, bipolar disorder, alcoholism and hypoglycemia, depression, and codependency. Inside this book you will learn how diet is linked to certain health conditions and the importance of eating a whole foods diet, cleansing for optimal health, and anti-aging treatments. I have even devoted several chapters to some of my favorite recipes. To find out more about this book, click here. You can preview all the chapters and introduction, up to page 11!
Print: $17.98 -- Download: $7.50
I've had several readers tell me they started working on the principles of the "love dare" from the hit movie, Fireproof for their marriage and it has improved! But then, after some time, they stopped working the "love dare" principles and they fell back into their old ways again. I think I know why this is happening.
I think they are not making the love dare principles a priority in their marriage. We absolutely must make these divine principles a priority in our marriage, before anything else. Because God is the Architect of marriage, His designs must come first in our marriage, above everything else. So then make "love dare" a first priority in your marriage and apply the principles every single day. I dare you to love. This movie is now available on DVD.
This Valentines Day –
Sizzle and Dazzle Your Spouse
What's the big deal about St. Valentine's Day? Well it is the day of love, romance and more love. What about married couples? I mean, married couples can still sizzle and dazzle each other even if they have been married, five, ten or twenty years, right? So lets start loving more!
Men, you first, have some fun and impress your wife with your love!
Set the ambiance and mood of the house by turning off all the lights except one red light bulb in a corner lamp. Sit down together and just stare into your wife's eyes. You won't be able to do this without laughing because your wife will want to know why you are behaving so strange. When she asks, tell her that you love her and miss giving her attention like you used to. She'll love that.



Give her your smiling and laughing attention for the rest of the evening. Ask her how her day went. Get interested in your wife and what she has to say. Nothing makes a woman feel good about her self more than when her man is genuinely interested in her. Lock your gaze with her when you are listening to her talk.



Prepare ahead of time something homemade and tasty to eat, like a chocolate fondue or a chocolate mousse pie. You can do this, if you put your mind to it. Homemade treats are so much more enjoyable and romantic then store bought. But if you really can't cook, at least buy something chocolaty, that is, if your wife likes chocolate.
Hug your wife whenever you think of it. Don't wait until you want something. Bring out the homemade pie and cut your wife a piece, and watch her as she gobbles down your delicious pie. Make your wife impressed with your cooking talents.


Hide an expensive box of chocolates under your wife's pillow. Don't just roll over and go to sleep, talk with your wife about your dreams and feelings. Hand her a long stemmed red rose, and let her know that you are not afraid to share yourself with her.
Ladies, you're next. Valentines Day is for married lovers too. It doesn't matter how long you have been married; it is absolutely imperative that you keep your marriage upbeat, romantic, and intimate.
Greet your husband lovingly at the door when he comes home. Wear his favorite dress and prepare his favorite meal. Men want to feel respected and needed and this night is no different. Do things that make him feel special and adored by you. Tell him that you really miss sharing your love with him. He'll like that.
Have your own Valentines chocolate hunt. Hide individual wrapped chocolates, or favorite candy, for your husband all over the house. Give your husband little hints and clues about where the candy chocolates are without actually telling him.


If it is in your budget to do so, buy some tickets to his favorite sports event for just the two of you. Make a homemade coupon booklet, adding coupons for back rubs, foot rubs, favorite desserts, etc. Coupon booklets are always fun. Just make sure you can and will redeem your coupons.
Rent a couple of romantic comedies and enjoy the evening together, watching TV, eating popcorn. Hide a box of expensive chocolates under his pillow. On top of his pillow put a long stemmed red rose. Get creative and have a romantic and intimate Valentines Day with the man you married.
Marriage Question: Hello Angie! I really loved reading your articles. I'm also a victim caught in the middle of this situation and I want to share it with you. I'm also a Christian from Fiji Islands, 23 years of age & I'm having a relationship with this 35 yr old guy who is a divorcee. I don't know what to do and I'm scared if I'm doing the right thing or not. I don't know what to do. He's very serious about our relationship and he is wanting to marry me sometime soon. We just started dating 2 months ago...I would like your opinion in this matter....Looking forward to what you think about us. I'm willing to accept what is better for us both and our ending which is much more important.......God Bless.

Marriage Guidance: You are still very young. I would not rush into marriage if I were you. And since you asked for my opinion, I will be very straight forward with you about what I think of the situation. Your friend is older than you by twelve years and has already been married once and has gotten a divorce. Now what does that tell you about him? What do you really know about this person you are thinking of spending the rest of your life with? Did you ask him why his first marriage did not work out? Does he have children? Why on earth is he in such a big hurry to get married? The more I think about this situation, the more I think it would be a bad idea to marry a divorced man.
God takes marriage very seriously and that means that both people need to have commitment in their heart BEFORE they ever get married. I think you should wait until God blesses you with the man that is just right for you, who will take marriage seriously and with more commitment. A man that will treat you well, and respect you and your position in the household. I firmly believe it is best to always BE FRIENDS FIRST and get to know someone and their parents before even THINKING about rushing into something that you may regret later on down the road. But this is my opinion. I think you asked me because you already knew what my answer was going to be. May you wait on the Lord in patience and God will bless you with the man of your dreams someday. Angie
Is it old fashioned to walk up to a young women's home, that you would like to get to know, meet her parents and be asked to come in to play scrabble or monopoly with her family? If you would rather be doing something else with her, than you shouldn't be there at all. If a Christian man truly wants to get to know a woman for the prospect of possible marriage, does he need to have sex with her?
"You are not your own; you were bought at a price. Therefore honor God with your body". (1 Corinthians 6:20)
Is it old fashioned to remain pure until you're married to the man or woman you have learned to love through the courtship process? Does it feel wrong to respect and value the person you're going to marry by making sure they do not sin against their own body? Having sex before marriage is not what God intended for Christians.
"Flee from sexual immorality. All other sins a man commits are outside his body, but he who sins sexually sins against his own body". (1 Corinthians 6:18-20
Why are Christians falling along the wayside, disregarding moral character and values to give in to their sexual lusts and desires? It is because of peer pressure – the world is pressuring young people to have sex – enabling them to have sex before marriage. The world scoffs at God's principles and rebellion has set in. Understand that what is against the teachings of Christ for the Christian is rebellious in nature.
They said to you, "In the last times there will be scoffers who will follow their own ungodly desires." These are the men who divide you, who follow mere natural instincts and do not have the Spirit. But you, dear friends, build yourselves up in your most holy faith and pray in the Holy Spirit. Keep yourselves in God's love as you wait for the mercy of our Lord Jesus Christ to bring you to eternal life". (Jude 18-21)
Churches, ministries, leaders, teachers, and parents should be offering solutions to the sexual quandary of dating that is corrupting the culture of society. There is so much sexual/lust pollution filtering through all the different forms of media today that the practice of having sexual relations (dating) at the age of fourteen seems almost normal. Teenagers are getting pregnant at the age of twelve!
What about the safe and honorable practice of courtship? As a Christian young woman today, wouldn't you rather be respected and valued for the person God made you to be than just another body to have sex with? When we take away Christ's principles of love, and replace them with lustful feelings of desire, it confuses people into believing that it's ok to sexually and emotionally abuse one another through the dating process. Society has confused sex and lust with love! But that's not love – you have been deceived!
Courtship does not have the trappings of sex associated with it. When a man courts a woman it is because he wants to get to know her for who she is – not for what she can give him. He is already prepared to NOT have sex with her. He wants to respect and value her for the woman God created her to be. He wants to get to know her better because his future depends on it. There is nothing old fashioned about courtship – it is how God intended it to be.
It is God's will that you should be sanctified: that you should avoid sexual immorality".
(1 Thessalonians 4:3)
In the dating relationship a young man or woman is trapped into having sex! In fact, it is a given they will have sex. They are literally trapped. Its like two spiders stuck in the web and they can't get out until they finally give up and give in. The trap is the pressure of society pushing them into having sex.
Courtship involves principled actions of love. It does not involve sexual relations but teaches how to respect, honor, and commit to one another for the preparation of marriage. In essence courtship is a word that has been applied to describe the biblical basis for the relationship leading up to marriage and is found in the bible through Mary and Joseph. Not only did Mary and Joseph court one another they were betrothed (engaged) for several years before they actually got married! During the betrothal there is no physical contact until the wedding; betrothal is the groundwork for spiritual and emotional maturing and caring for one another on the Christ-like principles of love.
Copyright © 2009 Heaven Ministries
All Rights Reserved
To unsubscribe from the Heaven Ministries Newsletter Click here and type in unsubscribe in the subject