Marriage Articles
Second Opinion About Divorce - Let Go and Let God!

Are You Prepared For Marriage?
Other Articles
Love More Important Than Rules
Good Deeds Will Not Save Us - Only Faith In Jesus Will
Adultery Pandemic
Healing Ourselves and Restoring Marriage
Turning Your Marriage Into A Success!
If you want to restore your marriage from the demoralizing effects of adultery, then look no further - this is the book for you!
Your Marriage Can Be Restored!
A treasure book filled with effective guidance for your marriage from forgiveness and trust to recommitting your lives to each other again.
You Can Heal The Wounds!
Your marriage deserves the best possible care. God is that care. Make your marriage important to you. A treasury of great information you can't live without if you want to remain happily married.
Download Adultery Pandemic E-book $7.95

To Read Back Issues of Marriage Alive Newsletter
Click Here
To Preview or Buy our other Marriage Books Click here
Journey on the Roads Less Traveled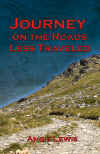 (Angie's personal testimony)
Journey on the Roads Less Traveled is a spiritual journey providing an avenue for people to change their lives through Jesus Christ in a way that is not commonly understood. The less traveled roads take the reader down a comprehensive and well-rounded foundational understanding into the biblical world of acceptance, beliefs, spirituality, feelings, marriage, children, family, forgiveness, temptation, faith, and finally prayer while applying the power of "real love" into all of the above elements. The book will challenge the reader to go a step further in their faith and beliefs by helping them to identify with all the aspects of their character, namely the spiritual element of who they are and can become. In her book, Angie Lewis offers the spiritual counsel we need to live at peace with ourselves, and have a closer relationship with God.
Buy Journey
$17.95
What is "real love"? It is something that comes from the Holy Spirit within us. It is the Holy spirit working through us. That is what "real love" is.
No one can truly forgive on their own, to forgive completely is giving up the control of unforgiveness (negative feelings) and allowing Christ to go to work in your life.
Buy Journey
$17.95
Second Opinion About Divorce - Let Go and Let God!
Are you having second thoughts about that divorce? What do you think, is it easier to divorce and call it quits or work on restoring marriage? Many couples believe divorce is the easier way out, but is it? Do you think that part of the reason we end up divorcing is because of an attitude problem. How is your attitude? What we think and how we feel gives us justification for many of our actions, but that does not make those actions right.

Do you think a selfish lifestyle or way of thinking is going to help the love process with your spouse? Is there any one thing that you can do today to change the way you might feel about your spouse? If your attitude is wrapped up in resentment or other hateful feelings, maybe all you got to do, is adjust the knob a little bit, and you might find yourself feeling more agreeable by every passing day.

Have you ever asked yourself "who am I"? Or what your purpose in marriage might be? Who are you? Coming to terms with the why, what, and who of who you are can actually give you a reason to think and believe differently than how you are now. So why would you even need to think or believe differently? I cannot answer that question for you, but what I can do is steer you in the right direction by giving you some spiritual insight.

If divorce seems like the right thing to do rather than work on staying married, where are you getting your answers? Who are you talking with? Who is influencing your decision? Have you prayed about it? Have you asked Jesus what He thinks you should do? In other words, are you getting your answers from only one source, or are you actually getting a second opinion?

If a doctor said you had cancer and needs to operate within one week, would you take his or her word for it, or get a second opinion? You would most likely get a second opinion, wouldn't you? So why are people of God so quick to make a decision about divorce? Have you asked Christ what He wants for you and your marriage? Who are you? If you are a child of God then wouldn't you want to get a second opinion from someone who knows what you really should do for your marriage?

Accepting the truth of who you are and living the purpose meant for your life will lead you away from self and the selfish way of viewing life, and into God's light where the thoughts of selfish living cannot survive without it tugging at your heart, mind and soul. That tugging is your answer! You have already known the answer all along, but when it tugs that is God talking to you and actually giving you the answer himself! Why fight it? You shouldn't fight it.

Give in to the truth and watch yourself become transformed just by doing the will of God. When you feel the tugging, go with it and continue following the lighted way because God knows what is best for you. The answers are already within you because you have been given the Spirit of Christ. I think some of us are too afraid to let go and let God. But then everything that Christ has done for us would be in vain, wouldn't it?

If we are afraid of handing our life over to God then how on earth can we ever surrender ourselves to the person we married? Divorce looks and feels like the right thing to do because we didn't ask God. If you're not sure about a situation, always get a second opinion; ask the Spirit of Christ within you. I don't think you will regret it.

And I will ask the Father, and he will give you another Counselor to be with you forever – the Spirit of truth. The world cannot accept him, because it neither sees him nor knows him. But you know him, for he lives with you and will be in you. (John 14:16-17 NIV)


Are You Prepared For Marriage?
Okay, so you're getting married in a few months, how prepared are you for marriage? There are many factors about marriage you should ask yourself before diving in headfirst. Sit by the edge of the pool with me for a moment and get your feet a little wet first, then, if you're ready to take the plunge then go ahead and dive right in.

Why are you getting married? The first answer that comes to most people's minds when I ask this question is the feeling they have of being "in love". Okay, I'll buy that one, but I believe you're going to need a floatation device because "love" in the sense of the word that you're thinking about will not keep your marriage afloat. That "kind of love" dissipates over time, and then what are you going to do?

Here are five questions to ask yourself to find out if you really are ready for marriage. Go through these questions with your friend, each taking turns answering.

1)Are your ready to sacrifice your selfish endeavors for the sake of your new spouse? (There is no room in the pool for selfishness in marriage).

2)Have you accepted the person you're about to marry, faults and all? (If any faults bother you now, there's a good chance they will really bother you after marriage).

3)Are you devoted to the person you are going to marry, through all the trials and tribulations of marriage?

4)Are you prepared to give of yourself by being a considerate, compassionate and respectful marriage partner through "principled acts of love"? (There is a big difference between "feeling in love" and actually "being loved" by someone.)

5)Have you set it in your heart that divorce is not an option? (Total commitment is needed by both of you).

Okay, so there you have it. Are you ready to plunge in? All right then, go ahead and dive right in. Just remember to always remain devoted to the person you married and committed to the marriage and it will make you an excellent swimmer. Eventually, you can throw away the flotation devices for good because you will be like a fish out of water.
Good Deeds Will Not Save Us - Only Faith In Jesus Will
Most of you reading this article already know that good deeds will not help you into heaven. I could help all of my neighbors financially, and I could feed and clothe all of the hungry and poor in the world, but that is not what God wants from me. What does God want from me? God wants me to have faith! And the funny thing about that is, faith is a gift from God.
God wants us to "believe" with all of our being that Jesus is who He says He is, and then God will bless us with faith. It's not that God does not want us to do good deeds and help our neighbors, friends, brothers and sisters in the Lord, but that is a given of being a Christian. On the contrary, it is our Christian responsibility to always do what is right. But first, to be responsible stewards, we must believe in and love God with all of our heart, mind, and soul.
Did you know that as a believer you have a duty to "go" and preach to all nations about the awesome power of Jesus? There are many different ways a Christian can evangelize. God has given us all gifts to use for His purpose. Find your gift and use it to help build up God's earthly kingdom – the Kingdom of God.
"Go ye therefore, and teach all nations, baptizing them in the name of the Father, and of the Son, and of the Holy Ghost". (Matthew 28)
The most important aspect of our Christian walk is for us to realize, we are not the only Christian (family, individual) working for Christ – it is not about us and what we do and what we say – it is about Jesus and what He has done for those people who have faith to believe in Him as their personal Savior.
If it was about the Christian then he or she would have the authority to moderate others faith and tell them what to believe and how to believe. But it is not about us!! It is about Jesus. It is about building up God's earthly kingdom and doing it in love. If we do not encourage and love others then what kind of faith is that?
"Let a man so account of us, as of the ministers of Christ, and stewards of the mysteries of God. Moreover it is required in stewards, that a man be found faithful. But with me it is a very small thing that I should be judged of you, or of a man's judgment: yea, I judge not mine own self. For I know nothing by myself; yet am I not hereby justified: but he that judgeth me is the Lord.
Therefore judge nothing before the time, until the Lord come who both will bring to light the hidden things of darkness, and will make manifest the counsels of the hearts, and then shall every man have praise of God". (1 Corinthians 4:1-5)
Unfortunately, there will always be dissection within God's kingdom because personal opinions and judgments cloud love. Where love is clouded boundaries are made segregating God's people from each other. Then…the self-righteous attitude gets in the way of ever breaking that boundary and loving one another in the ways of the Lord. Where kind of faith is that?
"Now in this that I declare unto you I praise you not, that ye come together not for the better but for the worse. For first of all, when ye come together in the church, I hear that there be divisions among you; and I partly believe it. For there also must be also heresies among you, that they which are approved may be made manifest among you. (1 Corinthians 11:17-19)
Good deeds, gifts, abilities, and talents are of no use to God unless done in love. Good Stewardship must make love its foundation; otherwise we are only feeding our self and not God. But it is not about us; it is about Jesus and what He has done for us. To have love we first have to have faith to love. When Christians finally have the faith to love that is when boundaries will be broken and God's love shine through in the Christian so that God's kingdom can be built up on love rather than selfish indignation.
"And though I have the gift of prophesy, and understand all mysteries, and all knowledge; and though I have all faith, so that I could remove mountains, and have not charity, I am nothing. And though I bestow all of my goods to feed the poor, and though I give my body to be burned, and have not charity, it profiteth me nothing". (1 Corinthians 13:2-3)
Love More Important Than Rules


No one has ever seen God; but if we love one another, God lives in us and his love is made complete in us. (1 John 4:12 NIV)

Let us not miss out on the most important aspect of our relationship with those we love and those we should be loving. Are we so caught up with religious rules, regulations, and our neighbor's faith that we cannot love others the way God wants? Isn't love more important than rules? Are religious rules and rites really worth fussing and fighting over? Let's take a look.

Some religions will not do anything on the Sabbath because their faith forbids it. But what if someone is in need of help or healing on that day? It's not wrong to want to keep the Sabbath a part of your faith but it is wrong to not help those in need just because it is the Sabbath.

"And a man with a shriveled hand was there. Looking for a reason to accuse Jesus, they asked him, "Is it lawful to heal on the Sabbath?"
He said to them, "If any of you has a sheep and it falls into a pit on the Sabbath, will you not take hold of it and lift it out? How much more valuable is a man than a sheep! Therefore, it is lawful to do good on the Sabbath." (Matthew 12:10-12 NIV)

If your faith will not allow you to help those in need because of a religious rule, than how can that be loving your neighbor? I believe that everything belongs to God, and He has given us all things to enjoy. Scripture tells us, "The earth is the Lords, and everything in it". (1 Corinthians 10:26 NIV)

Some folks believe that eating pork is a sin, and those who do eat pork are not doing the will of God. I don't believe eating pork is a sin, but I do not eat it because I know it is not healthy for me. Jesus has brought us a new covenant with Him and that is to love our neighbor, not look down on them.

"Everything is permissible - but not everything is beneficial. Everything is permissible – but not everything is constructive. Nobody should seek his own good, but the good of others." (1 Corinthians 10:23 NIV)

Without love we are nothing.
"If I have the gift of prophesy and can fathom all mysteries and all knowledge, and if I have faith that can move mountains, but have not love, I am nothing. If I give all I possess to the poor and surrender my body to the flames, but have not love, I gain nothing". (1 Corinthians 13:2,3 NIV)

"So whether you eat or drink or whatever you do, do it all for the glory of God. Do not cause anyone to stumble, whether Jews, Greeks or the Church of God – even as I try to please everybody in every way. For I am not seeking my own good but the good of many, so that they may be saved. Follow my example, as I follow the example of Christ". (1 Corinthians 10: 31-33 NIV)
I hope you enjoyed the Heaven Ministries Newsletter!
May God Bless all of you and keep you safe.
As always, your Comments and questions are welcome.
Copyright © 2008 Heaven Ministries
All Rights Reserved
To unsubscribe from the Heaven Ministries Newsletter click here.